Do you know how many buildings have inefficient glazing?
Did you know that 25% of the heat in your home is lost through your windows?

Viking Energy Plus Glass can reduce the amount of heat lost through your windows by up to 75%.
This will have a big impact on the amount of energy you use…. and more importantly on your HEATING BILLS.
"Studies have shown that across Europe, over 85% of glazed areas are equipped with inefficient glazing*"
New technology has seen significant improvements in the energy performance of glass and low-e glass such as Viking Energy Plus Glass will let more free heat back into the room. Viking Energy Plus Glass is up to 60% more efficient than standard double glazing and 80% more efficient than standard single glazing.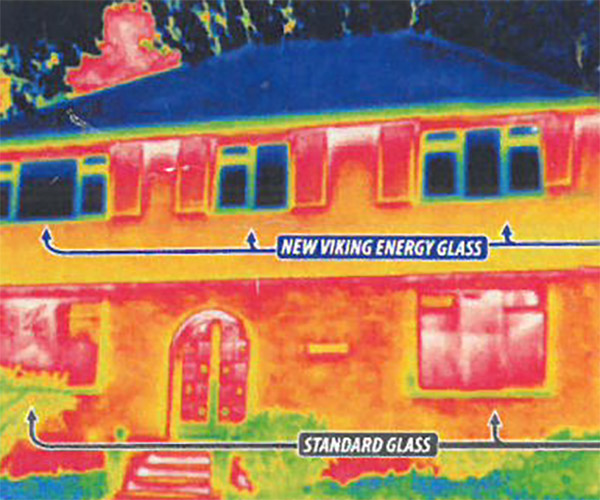 Why change your window frames when it's the glass that makes the difference? 
We offer home-owners the opportunity to upgrade their existing glass to the best heat retaining glass available on the market today all without replacing their window frames. 
Upgrading can cost up to 50% less when compared to complete upvc window replacement!
Are you insulating your walls and attic? – Finish the job by upgrading your windows! Our effective glazing system can be completed in one day by our highly experienced installers with no fuss and no costly redecoration expense. There's no damage to your decor or tiling therefore we guarantee the total cost of the job in advance. 
We also provide a FREE NO OBLIGATION SURVEY to assess your current glazing and offer a free demonstration to show how Viking Energy Plus Glass works including a heat retention comparison – take the heat lamp challenge!
Single Glazing Upgrade
Upgrade your old Single Glazing Units to Energy Efficient Double Glazed units without changing the existing frames.
Cost much less than a complete replacement.
Reduce Heat Loss by up to 80%
Reduces the possibility of condensation
Improve sound insulation
Save you up to €350 on heating costs per year.
No Redecorating Costs
Comfort level is improved immediately
We've got installation covered
This upgrade can be done on most frames, including Aluminum, Timber and UPVC (subject to survey)
Upgrades are completed by professional installers
Conversions are completed within a day
We offer a Nationwide Service
Double Glazing Upgrade
Save money on your heating bills, Improve the comfort of your home and Make your home more Environmentally Friendly

 is up to 50% more thermally efficient than standard non – coated double glazing.

 uses advanced coating technology that reflects heat back into your home but also captures free energy from natural daylight to help heat your home
The glass is the most important element in optimising the energy efficiency of your windows. Installing

will improve your homes BER Rating.
We simply remove the old inefficient glass and replace it with efficient

. The old glass is taken away and fully recycled.
---
Sample U-Values
Standard Double Glazing – 2.7 (Prior to 2004)
Can a achieve a U Value of up to 1.0
Why Upgrade?
Virtually eliminate internal condensation
Reduce Draughts and Cold Spots
Free Solar Gain
Manufactured to the latest CE and EN standards
---
Further Options
A Number of options exist that will further enhance the product as follows:
Triple Glazing
Safety and Security Glass
Sound Reduction
Decorative Glass Options
Conservatory Glass Options